Kapil Dev's Top Inspirational Quotes
Let's check out the world-famous cricket player Kapil Dev's top motivational & inspirational quotes about life lessons, cricket, success, positivity in life, belief, challenges, commitment, decision, goals & actions.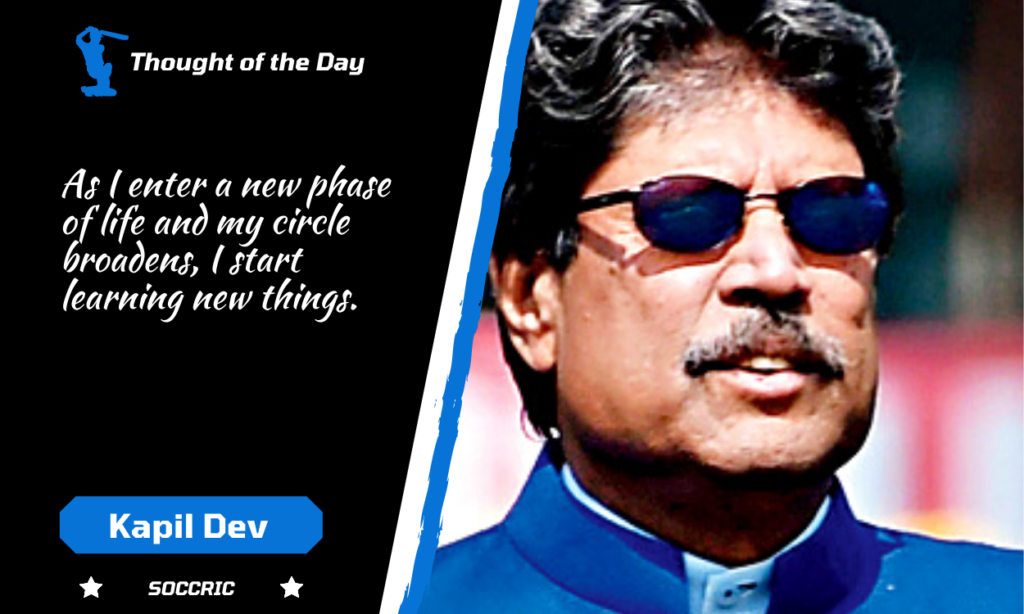 Kapil Dev Ramlal Nikhanj aka our own Kapil Dev is an Indian cricket player. Born on 6 January 1959. He is known as one of the greatest and most famous captains of all time in cricket. He became the first cricketer in the world who achieved the all rounder's double of 4000 test runs & 400 test wickets. He is also known as "Haryana Hurricane" because of his technical bowler. Under his captaincy India won the world cup in 1983. If you are looking for your favorite Kapil Dev's top motivational quotes, just check out below and use that encouragement in your life to move ahead and find out some aha moment in your life. 
If your work becomes a source of enjoyment and a challenge, it will never seem like work – it will be fun. If you ever feel that your work is a burden, there is no point carrying on with it.

I always breathe cricket.

Every person gets negative things, they learn from those negative things, and you become a positive person.

In the long run, I believe that honesty is definitely the best policy. One can get away by being dishonest for a short term, but ultimately, honesty is what pays.

Irrespective of any political party, I am a supporter of good people who want to do something for the society.

People often ask me whether I believe in God. I haven't seen God. But I think that one's beliefs are one's God – and, in those terms, yes, God is there.

My role models have kept on changing.

I never wanted to take autographs, always wanted to give them. To do this, you have to achieve something.

When you take risks and things don't go your way, you can be heavily criticized by the media. All artists are crazy.

I, as a cricketer, would like to see 100 counties playing top-flight cricket, just like tennis and football. If I am alive to see that, I will be very happy.

I have no political aspirations. That's it.

If I can teach cricket overseas, why wouldn't I do so in my own country?

It isn't easy being a celebrity cricketer in India.

When you are growing up, everyone will help you. When you reach the top, everyone will start pulling you down. The same people who help you will be the same people who try to pull you down. I am not too intelligent.

The West Indians and Pakistanis play one-day cricket so well because they play for English counties. As I enter a new phase of life and my circle broadens, I start learning new things.

The hunger to win must not die… The appetite has to remain big.

Apart from education, you need good health, and for that, you need to play sports.

Selectors can't please everyone, but I am OK if they are working for the benefit of Indian cricket. It's an administrative decision to appoint a selection committee, and I would like to let them do their job.

As a sportsman, my aim was to help sportspersons grow. The idea is to see what good is for sport rather than what's good for individuals.

Try and understand: cricket was played by Commonwealth countries only; now it has started in other countries as well, and I am proud of that.

Maybe a day will come when we may have to just put on a pair of glasses and see sports events. The biggest test for any cricketer in England is the weather.

I used to hate England because they ruled my country but I am happy they gave us the game of cricket, which they can't play very well, and the English language, which I can't speak very well.

When you have to work, work with a smile.

If you have two good off spinners, what is the problem in playing both of them?

The next generation has always been and will be better than the previous one. If it is not, then the world would not be moving forward.    

Good sports facilities are a blessing.  

I don't look into negative things.

Go past mistakes and look forward.  

Sports should not become routine.

I put my heart, soul and tears into the game and this is what I get. I don't know what to do. My wife can't sleep at night. I hold my daughter all night. I am ashamed I played cricket.

I never understood whether the word 'amnesty' is correct or not. Maybe I am not very intelligent but I checked the dictionary to find the meaning.

Cricket has become more popular, not me… When the game grows, those who've played it also 'grow.'

Osho's books inspire me to meditate. They give me peace of mind.

If you play good cricket, a lot of bad things get hidden. 

I was a naughty kid. Teachers did not like me much. 

Fast bowling is an art, like spin bowling. 

As an Indian, I would like to back my government. 

Though teenagers are generally very interested in sports, they must realize that education is the most important thing in their lives. They must find the right balance. 

It is always nice when you are honored. The Lifetime award makes me feel old. I am only 55. All you have to do is to dream big and try to fulfil it.

Cricket is very simple… you play till you can sustain.

I never said, 'I wouldn't help a cricketer if he approaches me.'

Sports is my passion.

My best wishes are with Indian cricket in general. I wish each one of our cricketers success at the international and domestic level.

One can't feel old in a day or overnight!

If you are playing on a turning wicket, toss plays an important role. The team that wins the toss gets an opportunity to play on the fresh wicket. You should always prepare the wicket as per team's strength. But a rank turner might backfire.

Test cricket is a different sort of cricket altogether. Some players who are good for one-day cricket may be a handicap in a Test match.

There is inspiration all around us.

I used to hate any batsman who would not get out in my deliveries.

No cricket should be played for at least a month anywhere in the world after a World Cup.

I wasn't a ladies' man.

When I was a boy, cricket was very, very English. Anyone who spoke English and anyone from a big town could play. And that was it.

Spirituality lies in what you do and how you do it and not what result you get.

Certain cricketers are meant to play Test cricket.

I have played cricket on my own terms.

Speed can't always get you wickets.

People never expected a boy from a small town to have a life like I did.

I feel that World Cup cricket should be played like football in which all the 160 countries take part. If only a handful of countries are going to keep on playing in the World Cup without making the game popular, I will be a sad man.

I think pride is more important sometimes than making money. 
Sport itself is an inspirational step to move ahead, it creates energy, zeal and enthusiasm and you feel yourself in high energy & lively. If you channelize that energy that will build you not only on a personal level but also on a professional level. You will defeat your opponents with that vibes only. So find your inner athlete today and enjoy your life with new spirit & spark. 
For more passionate, inspirational, motivational and creativity you can follow us on our social media channels today only via #SocCric. 👍👍