Lionel Messi's Top Motivational Quotes
Let's check out the world-famous soccer player Lionel Messi's top motivational & inspirational quotes about life, success, commitment, decision & actions.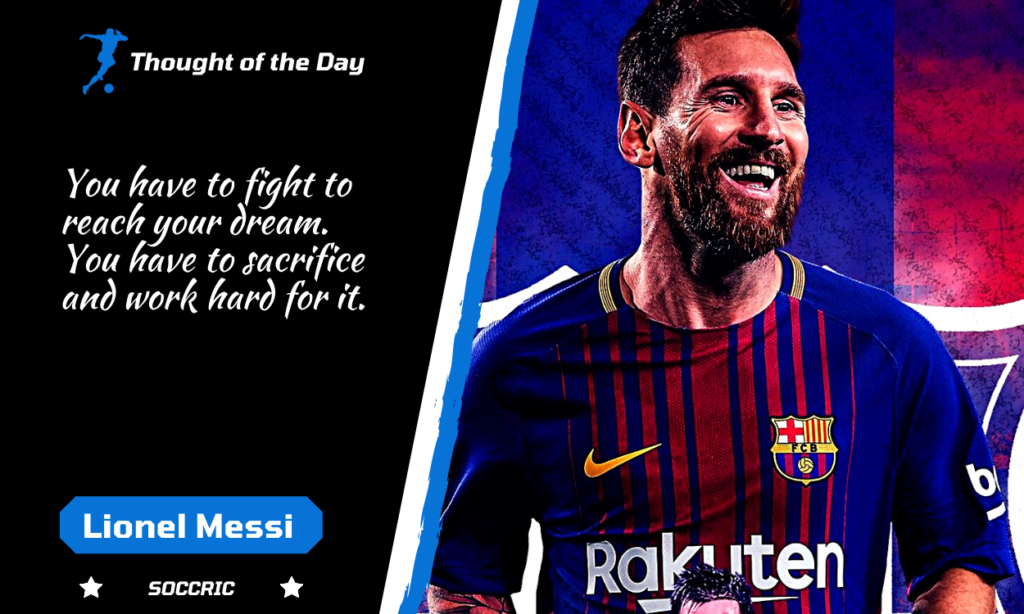 Lionel Andrés Messi is an Argentine professional footballer, who is also known as Leo Messi. Born on 24 June 1987. He was named Fédération Internationale de Football Association (FIFA) world player of the year five times for 2009, 2010, 2011, 2012 and 2015. He plays soccer with FC Barcelona and his country's team ( Argentina National Football Team). He has created many records for his team and individual level and became one of the best players in soccer.  
"You have to fight to reach your dream. You have to sacrifice and work hard for it."

"The best decisions aren't made with your mind, but with your instinct."

"You can overcome anything, if and only if you love something enough."

"I start early and I stay late, day after day, year after year. It took me 17 years and 114 days to become an overnight success."

"The objective is to win with all the team, personal records are secondary."

"My ambition is always to get better and better."

"If I wasn't paid to be a professional footballer, I would willingly play for nothing."

"Money is not a motivating factor… My motivation comes from playing the game I love."

"Being a bit famous now gives me the opportunity to help people who really need it, especially children."

"Something deep in my character allows me to take the hits and get on with trying to win."

"I have no intention of comparing myself with Maradona – I want to make my own history for something I have achieved."

"Little by little, I'm getting better all the time. I've not lost the passion to play."

"Barcelona gave me everything, they took a chance on me when nobody else would. I never have any desire to play for anybody else, I will be here for as long as they want me."

"Every year I try to grow as a player and not get stuck in a rut. I try to improve my game in every way possible."

"I made sacrifices by leaving Argentina, leaving my family to start a new life. I changed my friends, my people. Everything. But everything I did, I did for football, to achieve my dream."

"I used to serve tea at a shop to support my football training."

"I don't need the best hairstyle or the best body. Just give me a ball at my feet and I'll show you what I can do."

"What I do is play football, which is what I like."

"I think my desire to always get better, to always want more, to always be my top critic, and accepting the good and the bad."

"I'm always proudest whenever I've been part of a trophy-winning team. Lifting a title makes me feel so happy because it's what I want to do in football: be successful."

"This is why I didn't go out to parties and many other things. I am successful because I made sacrifices for success."

"Barcelona is my life, they have brought me to where I am today, I could not leave, I don't want to leave. My heart stays with Barcelona."

"At Barca, we trained every day with the ball."

"For my part, I try to do my bit to make people's lives more bearable, in particular children across the globe who are having problems."

"I am more worried about being a good person than being the best football player in the world"

"You can overcome anything, if and if only you love something enough."

"I will never go to trial against Barça because it is the club that I love, which has given me everything since I arrived here. It's the club of my life, I made my life here."

"Just to hear people saying and thinking that makes me very proud indeed. But I try not to think about it too much."

"Before if I lost or did something wrong I didn't talk to anyone for three or four days until it passed. Now, I come home after a game, I see my son, and everything is alright. "

 "I've always had a great relationship with my two brothers, I have always had their support in my football and in everything. They've been very close to me and we have a great relationship."

"I know how important it is to have a helping hand."

"There are more important things in life than winning or losing a game."

"I am the happiest man alive and I am happy for myself, for my family, and for my country."

"Being a dad changes everything for the better and I'm really enjoying it."

"If I hadn't had support, I wouldn't have been able to fulfill my dreams."

"My family was always present when I needed them and sometimes felt even stronger emotions than me."

"Ronaldo is a phenomenal player who has many qualities that year after year he improves. He's one of the best."

"Although it was a bit difficult to see him win trophies, he gave La Liga prestige"

"Ronaldo was my hero. I loved watching players like Zidane, Ronaldinho, and Rivaldo, but Ronaldo was the best striker I've ever seen."

"Ronaldo is always there scoring goals in all the games, he is at his peak or a bit below it makes no difference."

"It doesn't matter if I am better than Cristiano Ronaldo, all that matters is that Barcelona is better than Madrid."
Sport itself is an inspirational step to move ahead, it creates energy, zeal and enthusiasm and you feel yourself in high energy & lively. If you channelize that energy that will build you not only on a personal level but also on a professional level. You will defeat your opponents with that vibes only. So find your inner athlete today and enjoy your life with new spirit & spark.
For more passionate, inspirational, motivational and creativity you can follow us on our social media channels today only via #SocCric. 👍👍