Premier League 2021-22 Matchday 3 (Liverpool vs Chelsea)
In this Premier League all the fans were up for an exhilarating contest as Liverpool will take on Chelsea. So did happen, what a fantastic match 1-1.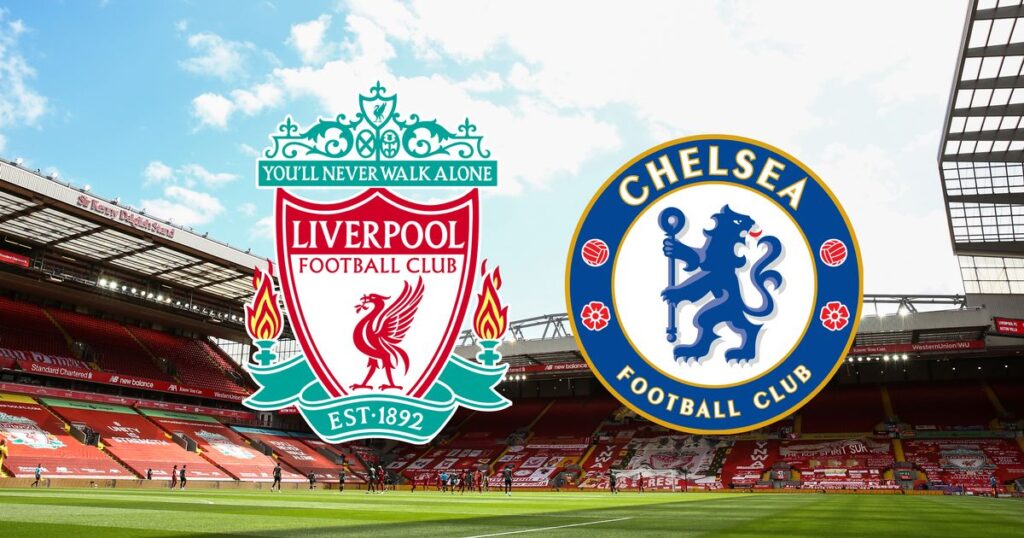 A heavyweight match played at Anfield which can have some impact later on the league table. A fast paced and tactically advanced game with two super energetic German coaches. Match ended with 1-1 on the scoresheet but it was filled with energy and action. Before we jump to the analysis of the game let's look at the lineups for the match.
Lineups for this match Liverpool vs Chelsea
| | |
| --- | --- |
| LIVERPOOL SQUAD | CHELSEA SQUAD |
| 1. Alisson | 16. Mendy |
| 66. Alexander Arnold | 28. Azpilicueta |
| 32. Joel Matip | 4. Christensen |
| 4. Van Dijk | 2. Rudige |
| 26. Andy Robertson | 24. Reece James |
| 14. Henderson | 7. N' golo Kante |
| 67. Elliot | 5. Jorginho |
| 3. Fabinho | 3. Marcus Alonso |
| 10. Sadio Mane | 29. Kai Havertz |
| 11. Mo Salah | 19. Mason Mount |
| 9. Roberto Firmino | 9. Romelu Lukaku |
Tactical Set-up for the match
Liverpool
Jurgen Klopp opted for his prefered 4-3-3 formation. There was no surprise inclusion on the line up. This season Liverpool has welcomed their main defender and their leader in defence Virgil Van Dijk. He is super important for them as his presence gives Liverpool the confidence to play their usual pressing game and they can also play from the back. Usual front three of Mane, Salah and Firmino was there who had an excellent understanding of each other's movement. Midfield consists of Henderson, Fabinho and home grown boy Eliott. This season Eliott may play a great part in the team.
Liverpool started the game by pressing high up the pitch and didn't give time to Chelsea players for making any play. They tried to cut out the dynamic duo of Kante and Jorginho by blocking their region and forcing them to play directly towards Lukaku or to the wingers. It was a great tactic by Klopp as he knows the Jorginho and Kante combination is the source of all the attacks for Chelsea. Fabinho tried to slot in between defence whenever required and was also responsible to keep an eye on Jorginho. This setup worked pretty well for liverpool.
Chelsea
Thomas Tuchel opted for his usual 3-4-3 system. On goal Mendy got the nod ahead of Kepa and he repaid them with excellent saves. In defence Azpilicueta, Christensen and Rudiger started the game. Jorginho was tasked to control the tempo of the game and look for those key passes from midfield to build up the play. Kante was trying to give the energy to the team by linking up and down to support both attack and defence for chelsea. Marcus Alonso and Reece James were tasked for overloading the flanks on both sides. Up front on the attack Chelsea had newly signed Inter striker Romelu Lukaku supported on the flanks by Kai Havertz and Mason Mount.
Chelsea played their usual high intensity games and tried to counter the pressing of Liverpool. Jorginho and Kante were marked by Liverpool players so the majority of Chelsea's attack revolved around Lukaku's physical strength and holding play. Lukaku played brilliantly in between two central defenders and tried to hold the balls and pass it to either other forwards or to the mid players.
After the red card incident of Chelsea the formation and tactical play changed a lot. Tuchel sent Thiago Silva and Kovacic in place on Kai Havertz and N'golo Kante and then Chelsea started playing with 5 players in defence. Azpilicueta played on RB and Alonso dropped to LB with 3 defenders in between. Mason Mount and Kovacic were given the duty of controlling the midfield while Lukaku also tracked back and continuously had duels with Matip and Van Dijk. Chelsea played very deep defensively and tried to soak all the pressure and attack from their opponents, Liverpool was forced to shoot from distance as there were no spaces in between. Henderson almost scored a screamer but it was inches wide.
Key moments of the Match Matchday 3 Liverpool vs Chelsea
Chelsea Goal
Reece James swung a free kick from the right side of the pitch and Kai Havertz headed the ball which glanced over the Liverpool players and ended up in the goal. A great goal and nothing Alisson could do about it.
Reece James Red Card
Liverpool attacked the ball and Matip sends ball into the middle from the by line before heading it off the bar, Mane followed the ball and shoot which hit Reece James on the foot and then on the hands on the goal line. Jota again attempted a shot which was blocked. Liverpool players protested for a handball, after checking it on VAR, the referee gave a penalty to Liverpool and showed Red Card for preventing an obvious goal using hands.
Liverpool Goal
Mohammad Salah took the penalty and scored the goal sending Mendy in the wrong direction.
It was a great game with super tactics and was full of energy. Both the teams gave their all to earn some points. Liverpool would be disappointed as they had a player advantage for the whole second half but could not capitalize. This also shows the strength of Chlesea and why they are one of the contenders of winning the league title this season.