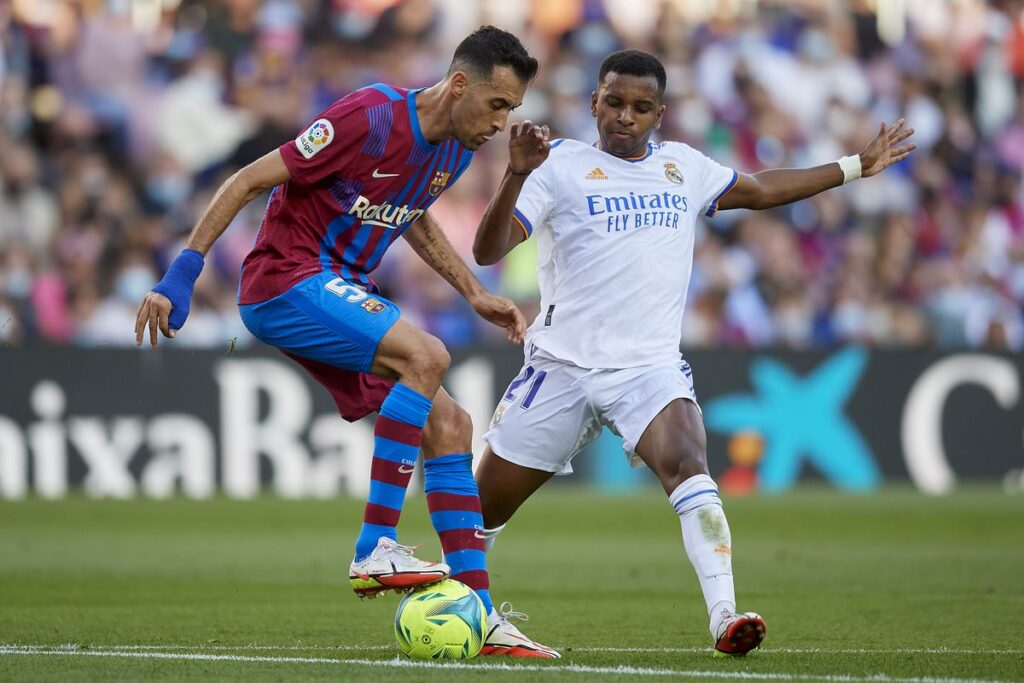 It was the first el-clasico in Riyadh since copa espana started in Saudi. A much awaited el-clasico as the Barcelona helm has been taken by Xavi. He has been implementing his strategies in the team and it was evident from the team's performance in Wednesday.
Line ups
Barcelona: Catalan club started with 4-3-3 formation. Dani Alves on the right back position since his return to the club and Ferran Torres up front as a Right Winger.
Real Madrid: Madrid got bad news before the match as David Alaba was not permitted to participate in the match due to his late arrival. So Nacho started in place of Alaba and on the right wing Marco Asensio got the nod.
From the first minute Barcelona started with having more possession and pressing high when the ball was lost. This is the same Cruyffian strategy they always follow. They were continuously pressing Madrid players and getting the ball and retaining possession. Gavi played much higher up the pitch and Barcelona started playing with 3 defense. They were playing high up the pitch, so Madrid was forced to stay back because of relentless running by Barcelona players. Midfield trio of Modric, Casemiro and Kroos were not able to properly transition the ball to the front three and Asesnsio had to drop back and defend in order to nullify the overloading of Barcelona players, so did Vinicius Jr.
As Barcelona were playing high up it gave Madrid a chance to counter-attack when Busquets lost the ball to Karim Benzema who then tied it to Vinicius for a perfect run and got the first goal. Barcelona continued their pursuit from down the left hand side where Dembele kept poking at their defense. Luuk de Jong came near twice before finally equalizing just before the half time. It was a cross from Dembele and Militao tried to clear but with a stroke of luck the ball hit Luuk de Jong and into the back of the net. Game on(1-1).
At Half time Barcelona made 2 changes, Pedri in place of Frenkie de Jong and Abde Ezzalzouli in place of Ferran Torres. Introduction of Pedri made Barcelona stronger as they started having all the possession and did not give a single chance to Madrid to attack. They were continuously trying to score again and came close twice. Xavi made another change and brought Ansu Fati in place of Luuk de Jong.
Madrid also made a change and brought Rodrygo in place of Asensio. This change was very important for Madrid as now Rodrygo started causing problems for Barcelona and it finally bore the fruit. Another counter by Madrid and Benzema scored his goal which he nearly could have scored just a few minutes earlier.
Barcelona again started giving all sorts of headache to Madrid and this time they took a short corner and Jordi Alba played a wonderful cross to Ansu Fati who beat the goalkeeper with a header and levelled the score. (2-2). Xavi made two other changes and Madrid also brought Fede Valverde in place of tired Modric.
Both teams tried to score but 90m minutes ended with a 2-2 score line.
Extra time started in a similar fashion with Madrid bringing Lucas Vazquez in place of Carvajal. This gave Madrid a little more freedom in attack and with a little mistake by Barcelona midfield, Madrid again started the counter attack with Casemiro who set the ball for Rodrygo, he passed the ball into the center where Vinicius left the ball for Valverde who scored the winning goal of the match.
This was the nail in the coffin for Barcelona as they kept trying after this but could not score. Madrid came close to scoring once more when Benzema tied it up for Rodrygo who just had Ter Stegen to beat but shot wide.
Match ended with Madrid coming out as the winner of the match. It was a thriller match with both teams giving their 100% and running continuously for the whole match. It certainly was a good step for Barcelona as they try to rekindle their game. Madrid will now play in the final of Copa Espana against the winner of Atletico Madrid vs Athletic Club.